–  Read the latest updates from Sustainable Plymouth including activities of various working groups. Also includes an update from the Town of Plymouth's Department of Marine & Environmental Affairs.
Monday January 18, 2021 at 6:30pm via Zoom.
Learn more here or email sustainableplymouth@gmail.com to receive log-in details.
Climate Work Group – Film Series
Members of the Climate Working Group are gathering information on films that are relevant to Sustainable Plymouth's mission, which promote the Climate Ready Healthy Plymouth report findings, and educate the community to the effects of Climate Change.  The first film in the series will be available for viewing and discussion this spring.  There will be relevant action items suggested for each of the films.
Climate Working Group – Weatherization/Energy Savings
The weatherization and energy conservation project team of the Climate WG has started compiling resources and putting together materials to share with the community regarding MassSave and other programs available to Plymouth residents.  We have a meeting planned with CleaResults (MassSave oil/propane partner) and Eversource on 1/15/21.  We look forward to collaborating with the Town's Energy Committee and other organizations on this project.
Renewable Energy / Energy Conservation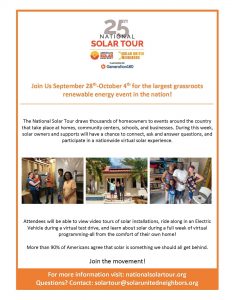 The National Solar tour is taking place virtually from September 28th to October 4th, 2020.
Sustainable Plymouth has shared about this tour via email, Facebook, Instagram and our website and is working with Linda Lancaster, Judeth VanHamm and others to promote the tour via the newspaper.
Please help spread the word to your circle of influence via email, social media and word of mouth.
More information can be found here: https://www.nationalsolartour.org/rsvp2020/
Status – Volunteers needed to spread the word for a successful turnout. (Deadline to host an open house 9/15)
Visit the National Solar Tour  https://www.nationalsolartour.org/
Sign up for 100% Renewable Energy here: http://www.colonialpowergroup.com/plymouth/
Plastic / Waste Working Group
Sustainable Plymouth's Plastic and Solid Waste Reduction Working Group will be going before the Plymouth Board of Health (BOH) on Wednesday January 27th at 4 PM.  This will be the second time that the BOH will take up consideration of a public health regulation restricting the use of rigid and blown polystyrene foodware as well as straws, stir sticks and utensils.  Demonstrations of support from the community can be decisive in moving such ordinances forward.
The BOH has developed the following method  to allow video participation in the meeting by the general public.   Members of the public who wish to watch the meeting live may do so by watching Comcast – channel 15 or Verizon – channel 47 or go to https://pactv.org; or watch when the show is replayed on pactv.org.  It would be most helpful if supporters watched the meeting live.  In that way,  comments they send in could then be heard by others who are also viewing the meeting, including Select Board members, other town officials as well as the general public.
Please send any comments or questions during the meeting to: publichealth@plymouth-ma.gov.  Your question will be read on air and answered by the BOH "as practicable". If time doesn't permit answers during the meeting, responses will be sent by email as soon as possible.
Habitat & Native Plant Working Group
The Native Plant project team has compiled a list of 35 beneficial plants with the guidance of Irina Kadis to detail on our website.  We have reached out to members of the Wampanoag community for their input on choosing plants for signage.
Message from David Gould, Town of Plymouth's Department of Marine & Environmental Affairs
As a general update that I can provide to you now DMEA is working on the following projects that have some level of climate change adaptability and/or resiliency component to them:
Current repair and maintenance construction at the Russell Pond Dam in North Plymouth. This work is underway and includes the installation of cut off walls, placement of grouted riprap on the up and downstream slopes, repair work to the spillway and control structure, etc. This will allow for the dam to sustain overtopping in the future if larger storms should occur.
ACOE Dike at Long Beach. Staff continues to work with ACOE on the permitting and design for the reconstruction of the northern half of the stone dike (Day Parking to Crossover). This work in conjunction with beach nourishment would help to stabilize this narrow section of Long Beach which in turn protects all of downtown Plymouth during coastal storm events.
Design and permitting of the bypass around the Jenney Grist Mill. This project is in design and would allow not only for improved fish passage at the Mill but the ability for larger flows to pass around the site rather than overtopping the dam. The site is extremely constrained and the existing spillway is undersized. The bypass would make the site much more resilient into the future.
Dune nourishment. DMEA would like to continue the dune nourishment activities in began last year at WHB again this spring. The dunes provide storm protection for the homes and infrastructure along this portion of Taylor Ave.
Restoration at the Foothills Preserve is nearing completion. The ability of this restored site to provide storage of rain and snow events is already evident. The diversity of habitat restored will be visible to all in the spring. At that time the plantings will be complete including a large dry meadow of pollinator habitat at the site. This will be our first such habitat on one of our properties and we will be placing an active hive on the site to take advantage of the habitat that will be created.
In regards to Trail work we will continue to work on extending the trail out at Indian Brook Recreation but are also working on some other projects including a CPC article for Spring Town Meeting to undertake two projects along the Seaside Trail. One is to pave the existing trail for ADA compliance and the second is to construct a safe pedestrian crossing at Nelson St and extend the trail to Lothrop St.
We are also working to complete the trail along Billington St and connect to Morton Park. An article has been submitted for Spring Town Meeting for a footbridge at Billington and Westerly to connect to new sidewalks under Route 3 and bring folks in to Morton Park. Sidewalks along the former Plymco impoundment would complete this connection and allow for a trail/sidewalk connection from Brewster Gardens to Morton Park.