Does recycling still work? Check out this article written by Sustainable Plymouth Advisory Board member, Ken Stone: https://oldcolonymemorial-ma.newsmemory.com?selDate=20230112&goTo=A03&artid=0
Resource guides to find out what can and can't be recycled:
Some generalities:
Just because you see the "chasing arrows" symbol on an item, that does not mean that it is in fact recyclable. The symbol was developed by the plastics industry after the first Earth Day celebrations to try and blunt growing concerns about plastic waste by suggesting recycling would solve the problem.  Recycling alone will never do so, thought it remains important. The chasing arrows were also used in part to help recycling facilities identify what sort of plastic an item is made of.
Most plastics that come from households will be numbered 1 – PET or PETE, 2 -HDPE , 5 – PP and 6-PS .  The numbers are located inside of the chasing arrows triangle and the letters are underneath. When it comes to the bottles and rigid containers that go in your recycling bin, big brand owners and local companies alike can't get enough of the rigid #1s, 2s, and 5s to replace petroleum-based 'virgin' material. New laws in four states will soon require it.
Cardboard, paper, glass and aluminum are very recyclable in addition to number 1, 2 and 5 plastics.
Those companies that collect the materials in bins for plastic bags at supermarkets will also like all sorts of film plastic such as bubble wrap, bread bags, dry cleaning bags, newspaper sleeves, produce bags, case overwrap and food storage bags.  Just try to remove paper labels if any are attached. Some categories of plastics cannot be recycled. Polystyrene (PS – 6) is not recycled in either its rigid (think take-out food containers) or foam (think a.k.a Styrofoam) forms.  A good number of the rigid take-out containers used by restaurants are PS and should be thrown out.  On the other hand, many establishments use containers made of one of the other materials that are recyclable.  So just take a moment to examine them prior to disposal or recycling.
Black plastics are not recycled (the optical sorting machines can't read them and black is too saturated a color to be mixed with other recycled plastics).  So regardless of what type of plastic a black item is made of, just throw it out. Straws and plastic utensils are also trash as are cardboard milk and juice containers and most all beverage cups made of paper that are lined with a thin layer of plastic coating to prevent leakage.
Textiles are now banned from the waste stream by MA Regulations. Here are some options for responsibly donating, recycling, and buying clothing and other textiles.
Donating and Recycling Used Clothing & Textiles
Accepts usable clothing only:
Christ Church Thrift Shoppe – 6 Lothrop Street
Plymouth Recovery Center – 5 Main Street Extension
Savers – 10 Pilgrim Hill Road
Plymouth Area Coalition for the Homeless – Family and Individual Resource (FAIR) Program – 149 Bishop's Highway, Kingston (call first 781-582-2010)
Vineyard Church – Careworks Vineyard Resource Center – 41 Pottle Street, Kingston
Accepts textiles for recycling in addition to usable clothing:
Bay State Textiles donation boxes at Plymouth Public Schools and Manomet Transfer Station (Accepts clothing, linens, and other textiles as well as footwear, handbags, pillows, and stuffed animals. Donates funds to schools for every ton recycled.)
Planet Aid donation boxes – 700 State Road
Goodwill donation boxes – 250 Beaver Dam Road (Manomet Transfer Station)
Salvation Army donation boxes – 52 Long Pond Road and 250 Beaver Dam Road (Manomet Transfer Station)
Check out this fantastic slide deck from when Baystate Textiles presented at a Sustainable Plymouth meeting about textile recycling: Baystate Textiles Sustainable Plymouth Presentation
MATTRESSESS ARE NOW BANNED FROM DISPOSAL IN TRASH AS OF 11/1/2022 (More info)
How can I find a convenient outlet to recycle my mattress?
If you buy a new mattress, most stores will remove and dispose of your old one for a
reasonable fee.
 You can contact the South Shore Recycling Collaborative at : https://ssrcoop.info/ – they have held periodic collections of mattresses at a reduced rate.
Mattresses are taken at the Hard to Manage Waste Facility located directly adjacent to the Transfer Station at 354 Beaver Dam Road. The fee is $75 plus weight is the cost of disposal.
You may also want to visit MassDEP's mattress recycling webpage: HERE
You could search MassDEP's Beyond the Bin recycling directory for organizations near you that accept mattresses for donation and reuse: https://tinyurl.com/massbtb
Finally, you can search for cleanout companies near you that may collect materials such as mattresses.
Plymouth Area "Refillery" locations:
A refillery is a retail store designed to help you reduce your single-use plastic consumption by offering the option to reuse and refill your own containers again and again with household and personal care products.
Second-hand Clothing Shops in Plymouth Area:
Sells gently used men's, women's, and children's clothing as well as housewares
Baby and children's clothing and toys resale boutique supporting young pregnant and parenting mothers and their babies
Sells used men's, women's, and children's clothing as well as housewares
Consignment shop for gently worn women's clothing & accessories
Upscale women's resale boutique selling clothing & accessories (as well as home décor, small furniture, artisan crafts, and art)
3 Sisters Consignments – 2289 State Road
Joanne's Second Chance Consignment Shop – 10 Saint Margaret's Street, Buzzards Bay
The Gallery Consignment Shoppe – 247 Main Street, Wareham
My Fair Lady Consignment Boutique – 119 Wareham Road, Marion
Second-hand Clothing Apps:
Letgo
Mercari
Poshmark
Thredup
Vinted
Alternatives to Buying:
Shopping Guides
Home Green Guide – Thank you to Ms. Platt, Jessica, Jocelyn, Adam and Madalyn all the way from Alabama for this resource suggestion 🙂
Guide to Shopping Green – Thank you Amelia & Ms. Pedersen from StudyMAP for sharing this fantastic resource!
Pollinators, Gardening and Habitat Resources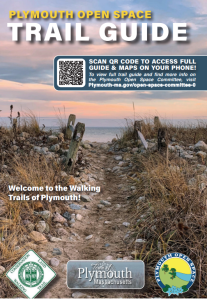 Climate Resiliency Educational Resources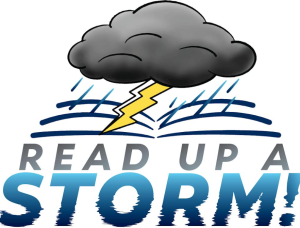 Energy Conservation and Renewable Energy
We've created the below graphic to help inform the community as to ways we can conserve water.  Feel free to share it.
For more suggestions click here: https://wateruseitwisely.com/100-ways-to-conserve/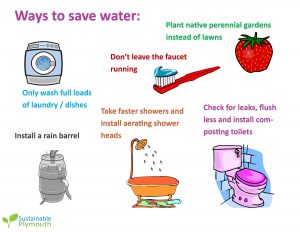 Sustainable Plymouth has put together a one page document with links to help Plymouth residents reach their elected officials, as well as town departments, boards and committees.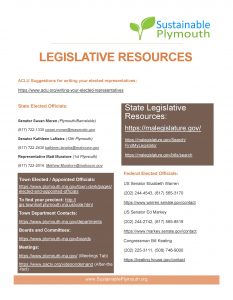 Please click the link below to view the video from the Plymouth Area LWV on how to run for office.  Thank you to the LWV for giving us permission to share their video!
Plymouth Area League of Women Voters presents "How to Run for Office" Forum. Copyright PACTV. Many Thanks to PACTV for videoing, editing, airing and providing this video to share. We hope you find it informative.
Climate and Decarbonization Resources