– Read the latest updates from Sustainable Plymouth including an upcoming (virtual) film series, updates from the Town Open Space Committee, and more!
April 19, 2020 ~ 6:30pm – 7:30pm
Email sustainableplymouth@gmail.com to sign up for meeting details.
Join Us for a Film Screening
The Sustainable Plymouth Climate Working Group has organized a film screening and discussion series. The first film will be Tidewater.  Save the date for the evening of May 17th.  This viewing and discussion will be in lieu of our regular monthly meeting, which will begin at 6:00 (rather than 6:30).  We will have speakers and detailed information regarding how sea level rise is impacting Plymouth.
Updates from the Sustainable Restaurants Working Group
The Sustainable Restaurant team has been working on a "Sustainable Restaurant" designation. We've designed criteria to make it simple and easy to become a "Sustainable Restaurant" and are starting to reach out to the restaurant community (post-Covid).  We plan to listen to restaurant management and make a program that is easy and beneficial for all.
We're working with an organization called PlasticScore, a free app restaurant patrons can use to rate the sustainability efforts of restaurants in town.  Sustainable Plymouth will be able to access the ratings data and learn which restaurants are already doing great, as well as learn which restaurants could use some help. Attend our April 19th meeting where we will have a special guest who will explain the program in greater detail.
Get started with the PlasticScore app: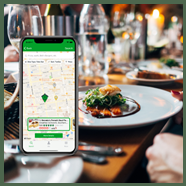 Download the PlasticScore app on the App Store or Google Play
Create an account (extra: use the code "PLYMOUTH" when you sign up to recover an extra 6 plastic bottles worth of waste for your first review!)
On the "Me" tab, scroll down and select the "Join Group" option
Enter the code "PLYMOUTH" to join!
Start leaving waste reviews when you go out to eat or order takeout/delivery
IN THE COMMUNITY
Updates from the Plymouth Open Space Committee
The Open Space Committee has added a climate change addendum to their Open Space and Recreation Plan.  We have shared this link on our website under "Resources".  They will be presenting it to our group on 3/15 at 6:30.  You can see it here. https://www.plymouth-ma.gov/sites/g/files/vyhlif3691/f/uploads/jan_11_2021_plan_final.pdf
Town of Plymouth Open Space and Recreation Plan Addendum
Climate Change Resiliency
EXPLANATION OF NEED FOR ADDENDUM
The Plymouth Open Space Committee completed an update to the Open Space and Recreation Plan in 2018, as required by the Massachusetts Executive Office of Energy and Environmental Affairs Division of Conservation Services. Updating this plan every seven years keeps Plymouth eligible for grants and other support from the Commonwealth.
During this process, the Open Space Committee recognized the need to address the potential impacts of climate change in an addendum to the Open Space and Recreation Plan before the next required deadline in 2027. This addendum to Plymouth's Open Space and Recreation Plan seeks to identify the potential impacts of climate change and offer recommendations for strengthening the resilience and adaptability of the Town of Plymouth in the face of climate change.
EXECUTIVE SUMMARY
Climate change poses increasing challenges for Plymouth, particularly within its coastal areas. Sea level rise, storm surge and high winds from more frequent and intense coastal storms, extreme heat, drought, and freshwater flooding are a sample of climate change related hazards that Plymouth is experiencing. These may lead to property and infrastructure damage, interruption of vital services (i.e., energy, food, water, emergency response) and loss of cultural resources. Plymouth could reduce its vulnerability through appropriate planning.
In this document, the effects and impacts of climate change in Plymouth are presented, along with the introduction of a matrix, which is a tool developed by the OSC to examine the relationships between open space objectives in climate change resiliency and the strategies to fulfil them. The recommendations presented here are based on findings from the matrix.
Hazardous Waste Collection Day & Volunteer Opportunity
Shared by David Gould:
Saturday April 17th will be Spring Hazardous Waste Collection Day from 9-1 at Camelot Drive.
Saturday April 24th will be a Spring Electronics Waste Collection Day. It has been quite some time since we have had an E-waste collection day so we expect this to be quite popular. Unlike the traditional Hazardous Waste Day there will be specific fees associated with the disposal of electronic items but the prices are quite low. Both events help to ensure that items are disposed of properly and not in the woods or along roadways littering the community.
More information and details on both events will be forthcoming and shared with everyone.
If anyone is interested in volunteering for either event – including the whole event, a few hours, one hour, whatever time you can offer – please reach out to Kerin McCall (cc'd on this email). We typically have long vehicle lines and lots of questions and we always need to review items in peoples trunks to ensure that they can be accepted and any help would be greatly appreciated. Thanks.