October 10, 2020 – Read the latest updates from Sustainable Plymouth including activities of our working groups, our next meeting date, and events and news from other advocacy groups in the region.
Sustainable Restaurant Working Group Developing Educational Materials
The Sustainable Restaurant working group is currently putting together educational material and compiling
information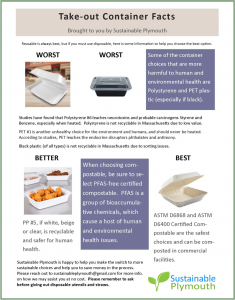 to share with the restaurant community.  We have had talks with Sysco Boston, Pactiv and Worldcentric.  Sysco Boston is cooperating with us in building a preferred pricing product list of PFAS-free certified compostable food ware items.
Pactiv sent us their compliant items and Worldcentric is getting back to us with local distributors.
A meeting is planned with RecyclingWorks/Center for EcoTech to discuss how they might assist our local restaurants in saving energy/energy costs and handling their food waste.
Update: Food Sustainability Working Group
The working group on food sustainability/ native plants met with Melissa Ferretti of the Herring Pond Wampanoag Tribe and discussed overlap, goals and progress.  We look forward to collaborating with tribal members.  Melissa will be discussing what we talked about at our meeting with the tribal council and will get back to us shortly.
Sustainable Plymouth News
New Climate Working Group Formed
Join our next meeting or contact dale.bryan@verizon.net to learn more.
Donations
Sustainable Plymouth asks for voluntary contributions to help support our projects.
Please consider donating at https://www.paypal.com/paypalme/sustainableplymouth
Our Next Meeting
Join us on October 19, 2020 at 6:30pm. Email sustainableplymouth@gmail.com to join our email list and receive meeting notifications and log-in information.
CALL TO ACTION: Support Legislation to Ban PFAS in Food Packaging
The Massachusetts Breast Cancer Coalition is calling on supporters to contact their local representatives in support of legislation that would ban PFAS (Per- and Polyfluoroalkyl Substances) from food packaging across the Commonwealth.
Many of the chemicals used in food packaging can leach into food and enter people's bodies. A 2019 study by Silent Spring Institute revealed that people who ate more meals at home had significantly lower levels of PFAS in their bodies vs. those who consumed more fast food or ate out more often. Chemicals in food packaging also raise health concerns when they are disposed of in landfills as they can enter the soil and groundwater, potentially contaminating drinking water supplies.
Currently, Bill S. 1315 – An Act relative to chemicals in food packaging, and Bill H. 3839 – An Act to ban the use of PFAS in food packaging are two pieces of legislation geared towards removing these harmful chemicals from food packaging in Massachusetts. We are inviting MA residents to voice their support for the passage of these two bills so we can help eradicate the health repercussions linked to exposure to these toxins.
Learn more about MBCC's campaign and tips for contacting your state legislator by clicking here.
Plymouth Open Space Committee
Thank you to the Open Space Committee, David Gould and Malcolm MacGregor for their efforts with the Indian Brook Conservation area. Marine and Environmental will be reestablishing existing trails at Indian Brook CA and creating a new trail all the way to Shallow Pond. We hope that this will become part of interconnecting trail systems that the Town Master Plan and Municipal Vulnerability Plan call for. The MRA, adjacent to this location, is where we plan to create the Native Edible Plant interpretive signage to educate the community on what is naturally growing in our community that we can eat.
INVITE: NetZero 2020 Conference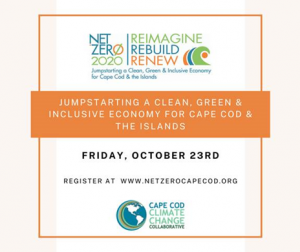 Linda Lancaster and Citizen's Climate Lobby invite you to attend NetZero 2020 Conference on Friday October 23. The annual conference, organized by the Cape Cod Climate Change Collaborative, has a terrific agenda with 3 tracks: public policy, business, and climate activism. This is a great opportunity for climate advocates to meet (virtually) and hear what others are doing.  Our Climate Lobby Chapter is proud to be a non-profit partner of this event.  Please forward this invitation to others who might be interested.  Register at: https://netzerocapecod.org/
Plymouth Participates in National Solar Tour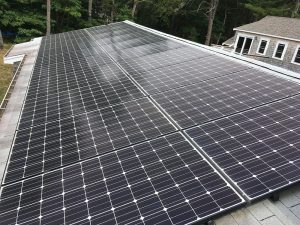 Sustainable Plymouth Members Linda Lancaster and Dale Bryan, as well as other members of our community took part in the  National Solar Tour from September 28th—October 4th.   Thank you to the community members who participated and to those who helped spread the word, especially Linda Lancaster of the Citizens Climate Lobby and Judeth VanHamm of Sustainable South Shore for their hard work.   Read this story in the Old Colony Memorial or view our members' tour videos here on our "In the Community" page.
(Photo Credit: Phil Angell)